Uncategorized
€200,000 is Guaranteed in the EAPT Barcelona Main Event; Full Schedule Inside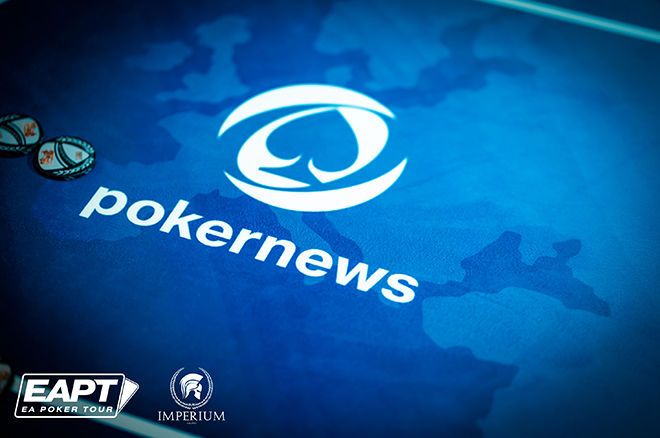 The Eurasian Poker Tour (EAPT) heads to Casino Barcelona in sunny Spain from September 29 through October 8, and everything points to it being a spectacular occasion. Eighteen events adorn the busy schedule, including a €560 buy-in €200,000 guaranteed Main Event that the PokerNews Live Reporting team is covering in full.
EAPT Barcelona kicks off on September 29 with the first of four flights in the Mystery Bounty event. Costing €450 to enter and guaranteeing €40,000 in the prize pool, it is the perfect way to get the festival off to a flying start.
The €250 buy-in €40,000 guaranteed EAPT Cup is another tournament that should not be missed. It runs from September 30 through October 2, and serves as a great way to warm up for the Main Event.
Day 1A of the €560 buy-in €200,000 guaranteed EAPT Barcelona Main Event shuffles up and deals at 2:00 p.m. on October 5 under the watchful eyes of the PokerNews Live Reporting team. The Main Event features four flights, including a turbo-structured Day 1D, before spanning across a second and a third day before crowning its champion.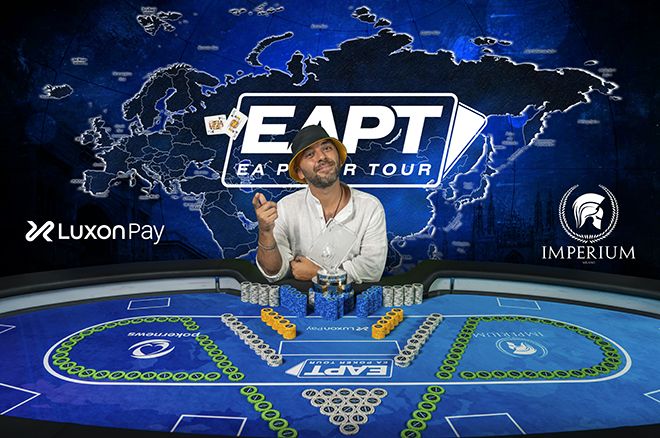 There is the option to play an online Day 1 at GGPoker, Natural8, EAPoker, PokerOK, or any other skin on the network. Progress to Day 2, and you'll have to make your way to Barcelona in time for Day 2 on October 7.
In June, the EAPT Rozvadov Main Event saw 596 players fight it out over a €400,000 prize pool. An anonymous player walked away with €81,500 for their victory. A month later, some 1,632 players piled into the Imperium Room in Milan, and created a €316,920 prize pool. Italy's Julio Anzelmo defeated their fellow countryman Dario Nittolo heads-up to secure a €54,500 top prize.
High Rollers are also catered for with a €1,100 buy-in €40,000 guaranteed High Roller. Of course, there are several satellites feeding into the High Roller if you fancy a shot at the big time but find the €1,100 is outside your bankroll's constraints.
Full 2023 EAPT Barcelona Schedule
| Date | Time | Event | Buy-in | Guarantee |
| --- | --- | --- | --- | --- |
| Fri 29 Sep | 12:00 p.m. | #1 Mystery Bounty Day 1A | €450 | €40,000 |
|   | 2:00 p.m. | Satellite to Mystery Bounty Day 1B | €75 | 6 seats |
|   | 5:00 p.m. | #1 Mystery Bounty Day 1B | €550 | €40,000 |
|   | 9:00 p.m. | #2 Turbo Big Stack | €250 | €10,000 |
| Sat 30 Sep | 1:00 p.m. | #1 Mystery Bounty Day 2 |   | €40,000 |
|   | 3:00 p.m. | #3 EAPT Cup Day 1A | €250 | €40,000 |
|   | 6:00 p.m. | #4 Bounty | €250 | €10,000 |
|   | 9:00 p.m. | Satellite to High Roller | €115 | 3 seats |
| Sun 1 Oct | 12:00 p.m. | #3 EAPT Cup Day 1B | €250 | €40,000 |
|   | 6:00 p.m. | #3 EAPT Cup Day 1C | €250 | €40,000 |
|   | 9:00 p.m. | #5 Turbo Texas | €250 | €10,000 |
| Mon 2 Oct | 11:00 a.m. | #3 EAPT Cup Turbo Day 1D | €250 | €40,000 |
|   | 3:00 p.m. | Satellite to High Roller | €130 | 3 seats |
|   | 5:00 p.m. | #3 EAPT Cup Day 2 |   | €40,000 |
|   | 6:00 p.m. | #6 Bounty | €350 | €15,000 |
|   | 9:00 p.m. | Satellite to Main Event Day 1A | €125 | 8 seats |
| Tue 3 Oct | 12:00 p.m. | Satellite to Main Event Bounty | €125 | 7 seats |
|   | 1:00 p.m. | #7 Pot-Limit Omaha 8-Max | €450 | €10,000 |
|   | 3:00 p.m. | Satellite to High Roller | €130 | 3 seats |
|   | 6:00 p.m. | #8 8-Max | €450 | €20,000 |
|   | 9:00 p.m. | Satellite to Main Event Bounty | €125 | 6 seats |
| Wed 4 Oct | 12:00 p.m. | #9 Main Event Bounty | €560 | €25,000 |
|   | 4:00 p.m. | Super Satellite to Main Event Day 1A | €125 | 12 seats |
|   | 7:00 p.m. | #10 Progressive Bounty | €450 | €20,000 |
|   | 10:00 p.m. | Satellite to High Roller | €255 | 6 seats |
| Thu 5 Oct | 12:00 p.m. | Satellite to Main Event Day 1A | €135 | 7 seats |
|   | 2:00 p.m. | #11 Main Event Day 1A | €560 | €200,000 |
|   | 7:00 p.m. | #12 Turbo Deep Stack | €250 | €15,000 |
|   | 9:00 p.m. | Satellite to Main Event Day 1B | €125 | 8 seats |
| Fri 6 Oct | 12:00 p.m. | #11 Main Event Day 1B | €560 | €200,000 |
|   | 3:00 p.m. | Satellite to Main Event Day 1C | €135 | 8 seats |
|   | 6:00 p.m. | #11 Main Event Day 1C | €560 | €200,000 |
|   | 7:00 p.m. | #13 Turbo Deep Stack Bounty | €250 | €10,000 |
| Sat 7 Oct | 11:00 a.m. | #11 Main Event Turbo Day 1D | €560 | €200,000 |
|   | 2:00 p.m. | Mini Main Event | €280 | €20,000 |
|   | 5:00 p.m. | #11 Main Event Day 2 |   | €200,000 |
|   | 6:00 p.m. | #15 High Roller 8-Max Day 1 | €1,100 | €40,000 |
|   | 7:00 p.m. | #16 Turbo Deep Stack Bounty | €250 | €10,000 |
|   | 9:00 p.m. | #17 All In of Fold 7-Max | €115 |   |
| Sun 8 Oct | 12:00 p.m. | Satellite to High Roller | €255 | 6 seats |
|   | 1:00 p.m. | #11 Main Event Day 3 |   | €200,000 |
|   | 3:00 p.m. | #15 High Roller 8-Max Day 2 | €1,100 | €40,000 |
|   | 4:00 p.m. | #18 Big Stack | €250 |   |

#Guaranteed #EAPT #Barcelona #Main #Event #Full #Schedule