Uncategorized
Will The Lucky Number Seven Win You €500 at bet365 Poker?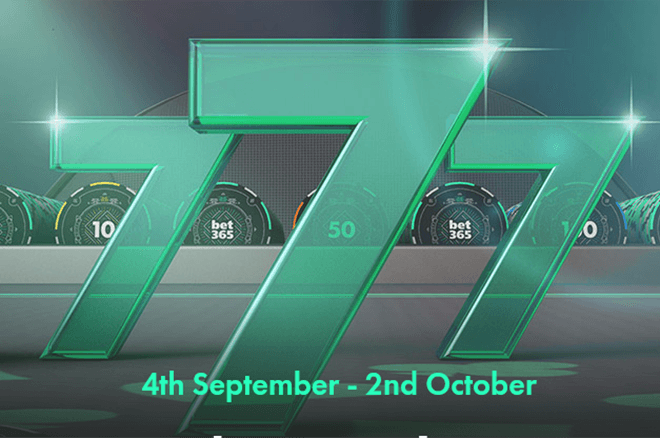 Bet365 Poker is giving you the chance to win up to €500 cash every week in the Lucky Number 7 cash game promotion. The promotion started on September 4 and runs through to October 2, giving you plenty of time to get your grind on and find those lucky number sevens.
The number seven has long been considered lucky. Seven is a prime number, ancient Egyptians held the number in high regard, while seven features frequently through religious texts across Christianity, Judaism, Islam, and Hinduism. Until October 2, at least, the number seven could prove lucky for you if you play cash games online at bet365 Poker.
How Does Lucky Number 7 Work?
As you have likely figured out by now, the Lucky Number 7 promotion at bet365 Poker revolves around the number seven. Play at bet365 Poker's Premium Tables, which are only available to bet365 customers, with blinds of at least €0.05/€0.10 between 10:00 a.m. GMT on Monday through to 9:59 a.m. the following Monday, and you are good to go.
The aim is to make as many hands as possible containing at least two sevens. You receive one point for each seven in your hand, with those points multiplied based on the stakes you play for.
Only your first 777 hands of the week count towards your total, with your hand total increasing even if you fold prelop. However, it is possible to reset your hand counter at any time during the week's qualifying period.
Make a pair of seven for two points, three of a kind for three points, or four-of-a-kind for four points. Those points are then multiplied by 1.25x if you play €0.10/€0.20 of €1/€2, and multiplied by 1.5x at games with €0.25/€0.50 and €2/€4 tables.
Win a Share of £1M in the 6 Scores Challenge at bet365
Bet365 Poker Lucky Number 7 Leaderboard Payouts
There are two Lucky Number 7 leaderboards for you to chase down, and you can compete across both at the same time. For the purpose of the promotion, €0.05/0.10, €0.10/€0.20, and €0.25/€0.50 are considered low-stakes. Hit the €0.50/€1, €1/€2, and €2/€4 tables to earn points for the high-stakes leaderboard.
The low leaderboard pays 50 places cash prizes from €5 up to €200. The high leaderboard pays the top 25 points earners a cash prize starting at €25 and as much as €500, which is a sum not to be sniffed at.
| Rank | Low Stakes Cash Prize | High Stakes Cash Prize |
| --- | --- | --- |
| 1 | €200 | €500 |
| 2 | €100 | €250 |
| 3 | €75 | €100 |
| 4-5 | €50 | €75 |
| 6-10 | €25 | €50 |
| 11-25 | €10 | €25 |
| 26-50 | €5 |   |
Start Your Bet365 Career With a €365 Welcome Bonus
You need a Bet365 Poker account to get involved in the Lucky Number 7 promotion. Those with an account can fire up the Bet365 Poker software, opt-in, and start meeting the entry requirements. Anyone reading this without an account can download Bet365 Poker via PokerNews and become eligible for a sizable welcome package.
Regardless of your initial deposit size, new Bet365 Poker customers receive a €365 redeemable bonus that releases into your account as you play real money cash games and tournaments. You receive 10 Status Points for every €1 or £1 you contribute to the cash game rake or pay in tournament fees.
The first two €2.50 bonus payments will be released into your playable balance once you earn 25 and 50 Status Points, respectively. The following 24 increments land in your account each time you earn 100 Status Points, with the remaining instalments redeeming after every 250 Status Points earned.
In addition to the €365 bonus, you also reel in a €1 Twister ticket, a free spin on the Welcome Prize Wheel, and some special welcome missions where you earn one-off prizes

#Lucky #Number #Win #bet365 #Poker