Uncategorized
Alexandra Botez Wins Big on the First Episode of the PokerStars Mystery Cash Challenge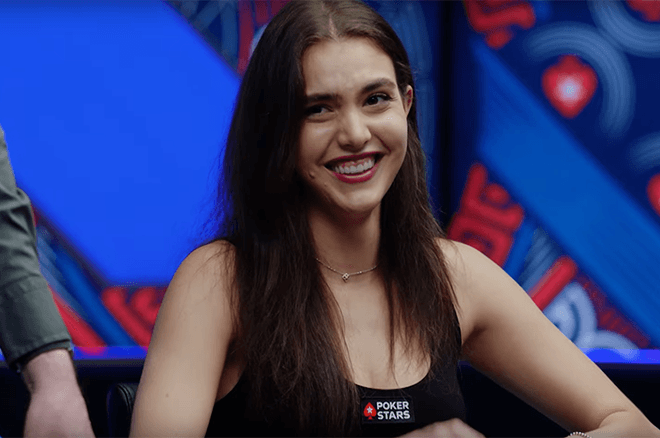 The first episode of the PokerStars Mystery Cash Challenge aired over the weekend, giving viewers a glimpse into the new and exciting format. Alexandra Botez was the biggest winner on the night after making a superb call in a hand that left Brazilian Fabiano Kovalski as the round's biggest loser.
The Mystery Cash Challenge combines high-stakes cash game action with a mystery bounty element. Six rounds, each seeing ten hands played, make up the Mystery Cash Challenge. The first nine hands are considered qualification hands, and each player must win at least one of those hands to qualify for the all-important tenth hand.
That tenth hand is a "bomb pot" where each qualified player pays a €100 ante, and the winner of the bomb pot hand receives a mystery prize plus a bonus prize.
Who Played in the PokerStars Mystery Cash Challenge?
Alexandra Botez

Griffin Benger

Maria Ho

Team PokerStars' Sam Grafton
Team PokerStars'

Parker "tonkaaaa" Talbot

Fabiano Kovalski
All six players bought in for €10,000 cash, and the blinds were €25/€50. Preflop saw a pot-limit Hold'em betting structure before switching to no-limit once the flop was dealt.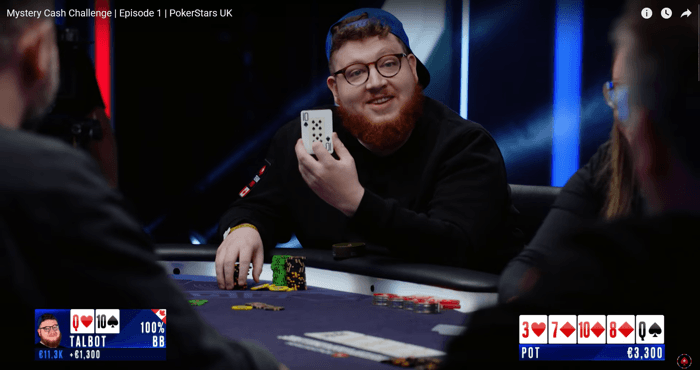 First blood went to Parker Talbot after he backed into two pair on the river, and he took the pot down with a substantial river bet. The hand started with a €200 raise from Kovalski under the gun, holding king-ten. Maria Ho called with ace-seven in the small blind, and Talbot called in the big blind with queen-ten.
Ho and Tablot checked to Kovalski on the three-seven-ten flop, and Kovalski continued for €450. Both Ho and Talbot called. All three players checked on the eight turn, which gave Kovalski a diamond flush draw. A queen on the river improved Talbot to two-pair, and he bet €1,350 into the €1,950 pot after Ho checked. Neither Kovalski nor Ho were prepared to match the bet, and Parker raked in the pot plus a bomb pot qualification token.
Botez won the second pot of the round in a brief clash with Sam Grafton before Kovalski earned his bomb pot qualification in a hand with Griffin Benger.
Learn more about the PokerStars Power Path
Discover what makes the PokerStars Power Path so awesome.
Hand #4 went Ho's way in a multi-way pot, when she ultimately forced Botez to fold the best hand on the flop.
Grafton earned his place in the bomb pot by taking a pot down preflop. Kovalski opened to €175 with king-four of diamonds from the cutoff but released his hand when Grafton made it €550 to go with five-four of clubs from the button.
Benger qualified for the bomb pot during the sixth hand, meaning all six players had now qualified for the all-important bomb pot. Now everyone was looking to win an additional token because whoever went into the bomb pot round with the most tokens received the button.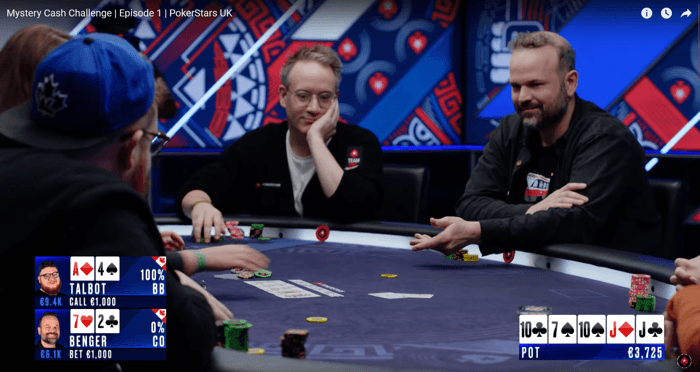 Hand #7 saw Benger get a little frisky with the lowly seven-deuce. Benger opened to €200 in the cutoff, and Talbot defended his big blind with ace-four. The flop fell ten-seven-seven, Talbot checked, Benger continued with €175 bet, only for Talbot to check-raise to €650. Benger called, and it was off to a jack on the turn, which both players checked. A second jack on the river counterfeited Benger's hand, leaving him with little option but to bluff at the pot. Talbot checked, Benger fired a €1,000 bet, and Talbot wasted little time in calling.
Botez and Griffin locked horns during the eight hand of the round, and it turned out to be a big one. Benger opened to €175 in early position with king-queen and called a €300 three-bet from Botez from the next seat along, which she made with ace-seven of spades.
Benger check-called a €400 continuation bet on the ten-deuce-nine flop, before check-calling a €1,500 bet on the turn when a king appeared. Benger then led for €2,000 on the jack river, which improved him to a straight, and Botez relinquished her hand, leaving Benger to reel in €4,475.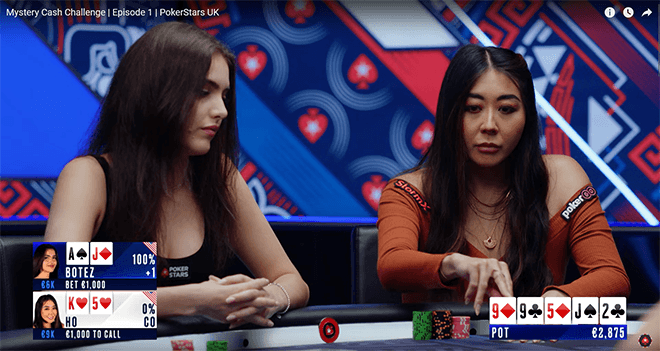 The penultimate pot went to Botez after she and Ho butted heads. Botez raised to €200 with ace-jack and called the three-bet to €500 from Ho, made with king-five of hearts. Botez check-called a €400 bet on the nine-nine-five flop before both players checked on the jack turn. The river was a deuce, and Botez fired a bet of €1,000, which Ho called. With that pot, Botez earned herself the button for the upcoming bomb pot.
Huge Bomb Pot Goes to Botez
The bomb pot saw everyone place €100 into the pot, and the hand progressed to the flop with no preflop betting round. Kovalski's jack-ten of clubs was the best hand preflop, but nobody had what you would consider a premium holding:
| Position | Player | Hand |
| --- | --- | --- |
| Small Blind | Maria Ho | 6♥2♠ |
| Big Blind | Parker Talbot | 9♦5♥ |
| Under the Gun | Fabiano Kovalski | J♣10♣ |
| Middle | Sam Grafton | Q♣4♦ |
| Cutoff | Griffin Benger | 9♣2♣ |
| Button | Alexandra Botez | 9♠8♥ |
The bomb pot's flop came down seven-three-eight rainbow. Ho checked, Talbot tested the waters with a €50 bet, Kovalski raised to €325, which folded out Grafton and Benger, but Botez called with her top pair. Ho ducked out of the way, as did Talbot.
The turn was another seven, and Kovalski checked to Botez, who bet €500. Kovalski pondered his options before settling on a check-raise to €2,400 with his gutshot and two overcards. Botez did not believe his story, and quickly called. Kovalski asked Botez how many chips she was playing as a queen landed on the river. A few moments later, Kovalski moved all in for €8,225! Botez asked if she could reveal one of her hole cards, was told she could, so she flipped the eight face-up.
Botez spent a few of minutes talking out loud, trying to get a response out of Kovalski, but the Brazilian remained stoic. Eventually, Botez said "F**k it, call," and saw the €20,250 pot slide towards her, much to the delight of the table.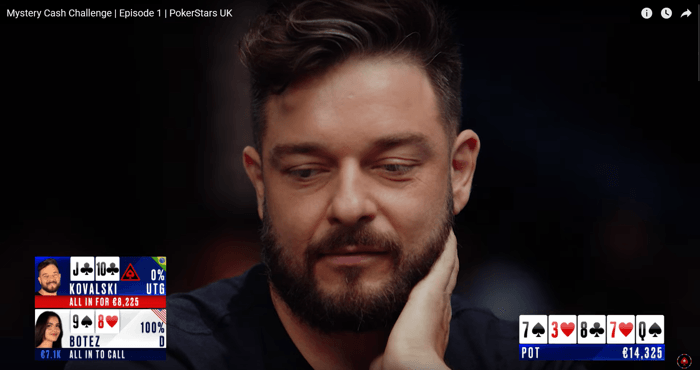 Standings at the End of Round 1
| Rank | Player | Stack | Profit |
| --- | --- | --- | --- |
| 1 | Alexandra Botez | €20,250 | +€10,250 |
| 2 | Parket Talbot | €12,975 | +€2,975 |
| 3 | Sam Grafton | €9,475 | -€525 |
| 4 | Griffin Benger | €10,000 | -€1,750 |
| 5 | Maria Ho | €7,900 | -€2,100 |
| 6 | Fabiano Kovalski | €8,150 | -€8,850 |
Winning the bomb pot entitled Botez to open one of the mystery prize envelopes. The first envelope awarded her €500 cash, taking her total winnings to the session to €10,750. The special bonus prize saw Botez able to select a player to remain silent for the first nine hands of Round 2. If the person selected breaks the rules and speaks during any of those nine hands, they must pay the other five players €100 each.
Botez thought about giving the forfeit to Benger, then jumped to the always talkative Grafton before nominating Talbot, who stated he was a lock to lose the silence challenge.
Will Talbot remain schtum during Round 2 (almost certainly not)? You will get to find out during the second episode of the PokerStars Mystery Cash Game on September 16 at 3:00 p.m. CEST on PokerStars Central and UK YouTube channels.
Use the PokerNews Online Tournament Calendar to Plan Your Action
Our free-to-use tool has several filters that make finding your perfect poker tournament, whether a WCOOP event or otherwise, a breeze. The PokerNews Online Tournament Calendar allows you to register for tournaments with a couple of mouse clicks, so you need never miss out again.

#Alexandra #Botez #Wins #Big #Episode #PokerStars #Mystery #Cash #Challenge