Uncategorized
Asian Poker Tour's $6.4m APT Incheon Series Breaks Multiple Records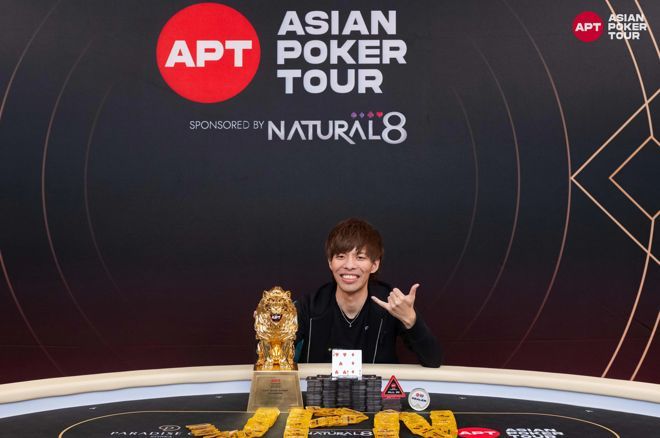 The Asian Poker Tour's visit to Korea is over. As the dust settles, we can look back on an extraordinary few weeks of poker in which a total of around ₩8,567,468,300 ($6,418,108) in prizes found its way into the pockets of players.
Hosted by the Paradise City Casino, the APT Incheon festival saw 1,127 unique players enter 67 trophy events. The player pool came to Korea from 40 different nations and, in total, paid for 6,967 tournament entries.
All these players contributed to this year's APT Incheon being the biggest Korean event in the APT's fifteen years. What's more, the festival set records for the biggest Korean field size and prize pool ever—both records set by the APT Incheon Main Event. The festival's Superstar Challenge playout was also the biggest version of that event in APT history.
Shoichiro Tamaki Takes Down APT Incheon Main Event
The record-breaking APT Incheon ₩2,300,000 Main Even attracted 930 entries, who created a ₩1,867,347,000 ($1,411,975) prize pool.
By the time the final table had been determined, the eventual champion Shoichiro Tamaki was already in the chip lead and eying up money and the golden lion trophy for first place.
To get there, Tamaki still had to beat a field of players every bit as hungry as he was.
However, by the time the Uzbek player Veleriy Pak busted in fourth for ₩110,900,000 ($83,078), the remaining three players were ready to cut an ICM deal. The players left ₩26,347,000 ($20,000) and the title to play for, meaning that when Tamaki won, he took home a check for ₩271,447,000 ($203,347).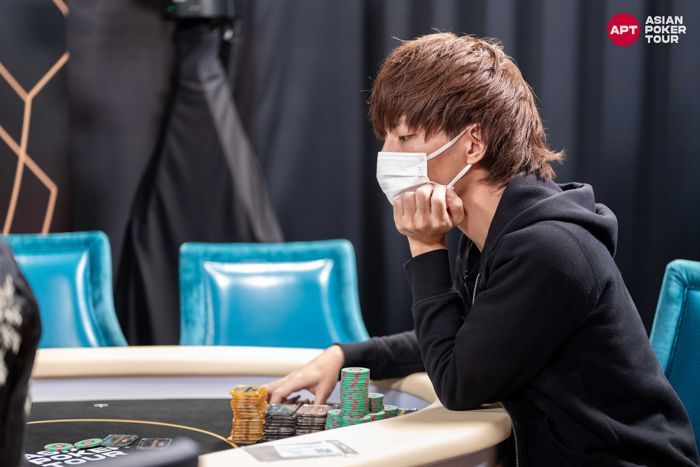 "I hoped, I hoped, but I didn't expect," Tamaki said during his winner's interview. "This is so big in my life."
This is the biggest win in the Japanese player's poker career, but his address to the camera was entirely focused on thanking his friends and family for their support.
"Thanks to everyone," he said in Japanese. "I was able to win the championship! Thank you for your support. I was happy with your messages. It was really encouraging. Thank you!"
APT Incheon Main Event Final Table Results
| Rank | Player | Country | Prize | Prize(USD) |
| --- | --- | --- | --- | --- |
| 1st | Shoichiro Tamaki | Japan | ₩271,447,000 | $203,347 |
| 2nd | Tsz To Wan | China | ₩211,200,000 | $158,215 |
| 3rd | Napat Chokejindachai | Thailand | ₩222,200,000 | $166,455 |
| 4th | Veleriy Pak | Uzbekistan | ₩110,900,000 | $83,078 |
| 5th | Abraham Ceesvin | Singapore | ₩86,300,000 | $64,649 |
| 6th | King Wai Cheung | Hong Kong | ₩63,900,000 | $47,869 |
| 7th | Jason Lau | Malaysia | ₩45,700,000 | $34,235 |
| 8th | Masahiro Adachi | Japan | ₩32,600,000 | $24,421 |
| 9th | Raul Martinez Gallego | Spain | ₩25,700,000 | $19,252 |
Next Stop, Hanoi!
The Asian Poker Tour, sponsored by Natural8, moves on to Vietnam in December for the APT Hanoi Billions 2023.
The APT Hanoi Billions will close out the 2023 Asian Poker Tour with ten days of poker.
The schedule includes ten high-roller events and aims to be another record-setting series, with VSOP CEO Terry Nguyen saying that the "APT Hanoi Billions is going to be the biggest poker event that Vietnam has ever seen."
The APT Hanoi Billions 2023 begins on December 1st, runs until December 10th, and will be hosted at Hanoi's National Convention Center.
APT Incheon Complete Tournament Results
| Event | Player | Country | Prize | Prize (USD) |
| --- | --- | --- | --- | --- |
| Event 1: APT Kickoff – KRW 175,000,000 GTD – Final Day | Hong Ru Zhang | China | ₩29,360,019 | $22,289 |
| Event 2: Single Day High Roller – Freezeout – 8 Max | Abraham Abdulla Ceesvin | Singapore | ₩37,398,000 | $28,391 |
| Event 3: PL Omaha 5 Card – Hi-Lo (Big O) | Fumihiro Yasoshima | Japan | ₩2,713,200 | $2,060 |
| Event 4: NL 2-7 – Single Draw – Turbo | Craig Anthony Cooper | United Kingdom | ₩1,634,700 | $1,241 |
| Event 5: Turbo | Cheuk Him Tsang | Hong Kong | ₩5,940,000 | $4,509 |
| Event 6: Midnight Tick Tock (Levels decrease every hour 20/15/10/5) | Chien-Chih Weng | Taiwan | ₩3,590,300 | $2,726 |
| Event 7: Limit R-O-S-E (Razz, Omaha Hi-Lo, Stud, Stud Hi-Lo) | Itsuko Yoroi | Japan | ₩2,198,000 | $1,669 |
| Event 8: Mystery Bounty Hunter KRW 225,000,000 GTD – Sponsored by Natural8 – Final Day | Dicky Siu Hang Tsang | Hong Kong | ₩32,561,200 | $24,719 |
| Event 9: APT Super High Roller – 8 Max – KRW 250,000,000 GTD – Final Day | Milos Petakovic | Serbia | ₩145,650,000 | $110,570 |
| Event 10: PL Omaha | Shion Ogawa | Japan | ₩6,967,000 | $5,289 |
| Event 11: NL Single Draw Mix (A-5, 2-7) – Turbo | Masaki Nakamura | Japan | ₩3,100,800 | $2,354 |
| Event 12: Turbo | Jung Chou Chen | Taiwan | ₩7,081,000 | $5,376 |
| Event 13: Midnight Tick Tock – Win the Button – (Levels decrease every hour 20/15/10/5) | Martijn Johannes Gerrits | Netherlands | ₩4,053,100 | $3,077 |
| Event 14: Nine Game – 7 Max (NLH, Stud, Omaha Hi-Lo, Razz, PL Omaha, L Hold'em, NL 2-7, Stud Hi-Lo, 2-7 Triple Draw) | Yuichiro Ishimoto | Japan | ₩3,961,200 | $3,007 |
| Event 15: Sunday Super Stack – KRW 100,000,000 GTD | Bastien Joly | France | ₩29,107,500 | $22,097 |
| Event 16: Single Day High Roller – 8 Max | Hong Ru Zhang | China | ₩59,515,500 | $45,181 |
| Event 17: PL Omaha – 5 Card | Hon Leung Ip | Hong Kong | ₩5,571,500 | $4,230 |
| Event 19: Turbo | Yutaro Imamura | Japan | ₩11,014,000 | $8,361 |
| Event 20: NL Single Draw Mix (A-5, 2-7, Badugi) – Turbo | Kin Tung Wong | Hong Kong | ₩2,907,000 | $2,207 |
| Event 21: Super Hold'em (3 Hole Cards, Use 0,1,2,3 Cards) – Hyper Turbo | Bao Qiang Ho | Singapore | ₩3,008,900 | $2,284 |
| Event 22: Midnight Tick Tock (Levels decrease every hour 20/15/10/5) | Toru Sahara | Japan | ₩4,478,300 | $3,400 |
| Event 23: Limit Triple Draw Mix (A-5, 2-7, Badugi) | Takuma Ito | Japan | ₩3,008,900 | $2,284 |
| Event 24: APT Main Event – KRW 1,300,000,000 GTD – Final Day | Shoichiro Tamaki | Japan | ₩271,447,000 | $206,068 |
| Event 25: PL Omaha | Tsuyoshi Yanagida | Japan | ₩7,330,000 | $5,565 |
| Event 26: Superstar Challenge – 8 Max | Jun Hao Wu | Singapore | ₩177,660,000 | $134,870 |
| Event 27: Seoul Starleague Bounty – Sponsored by Natural8 | Vladislav Klepikov | Russia | ₩12,411,500 | $9,422 |
| Event 29: PL Omaha 5 Card – Hi-Lo (Big O) | King Lun Lau Alan | Hong Kong | ₩3,008,900 | $2,284 |
| Event 30: Turbo | Bao Qiang Ho | Singapore | ₩11,499,500 | $8,730 |
| Event 31: Deuces Wild – Hyper Turbo | Karen Ka Yan Tsang | Hong Kong | ₩3,749,800 | $2,847 |
| Event 32: Midnight Tick Tock (Levels decrease every hour 20/15/10/5) | Martijn Johannes Gerrits | Netherlands | ₩3,961,200 | $3,007 |
| Event 33: Limit 2-7 & Badugi – Triple Draw | Jeffrey Kuen Wai Lo | Hong Kong | ₩3,488,400 | $2,648 |
| Event 34: PL Omaha – Hi-Lo | Chunsan Fan | China | ₩5,168,000 | $3,923 |
| Event 35: Single Day High Roller – Mystery Bounty – 8 Max (50/50 Bounty) | Katsuki Yamashita | Japan | ₩77,982,000 | $59,200 |
| Event 36: NL Hold'em – Freezeout | Shiina Okamoto | Japan | ₩22,756,000 | $17,275 |
| Event 37: Women's Event | Yuri Ishida | Japan | ₩4,819,700 | $3,659 |
| Event 39: NL H-E-R-O-S (Hold'em, Stud Hi-Lo, Razz, Omaha Hi-Lo, Stud) – Turbo | Yan Shing Tsang | Hong Kong | ₩4,125,000 | $3,131 |
| Event 40: Turbo | Yuki Hirata | Japan | ₩15,918,000 | $12,084 |
| Event 41: Lazy Rivers (Individual River Card Face Up) – Hyper Turbo | Jakkapong Sreprasom | Thailand | ₩3,576,000 | $2,715 |
| Event 42: Midnight Tick Tock (Levels decrease every hour 20/15/10/5) | Hongjie Wang | China | ₩5,977,700 | $4,538 |
| Event 43: Limit – Triple Stud (Razz, Stud, Stud Hi-Lo) | Kenji Kurashina | Japan | ₩2,645,600 | $2,008 |
| Event 44: NL Hold'em – Single Re-Entry | Reiji Kono | Japan | ₩19,749,000 | $14,992 |
| Event 45: Single Day High Roller – 8 Max | Sparrow Cheung | Hong Kong | ₩85,630,000 | $65,006 |
| Event 46: Omaholic (Omaha High – PL Pre / NL Post) – Sponsored by Natural8 | Wai Kin Wong | Hong Kong | ₩5,334,500 | $4,050 |
| Event 47: Women's Event | Hua-Wei Lin | Taiwan | ₩5,875,200 | $4,460 |
| Event 48: Double Stack – Turbo | Jun Hao Wu | Singapore | ₩15,851,500 | $12,034 |
| Event 49: NL 2-7 Single Draw – Turbo | Keita Yamashiro | Japan | ₩4,288,800 | $3,256 |
| Event 50: Double Board, Single Winner – Hyper Turbo | Mingzhi Ma | China | ₩4,005,500 | $3,041 |
| Event 51: Midnight Tick Tock (Levels decrease every hour 20/15/10/5) | Jun Yi Ong | Singapore | ₩7,420,900 | $5,634 |
| Event 52: Single Day High Roller – 8 Max | Wai Kin Suen | United Kingdom | ₩82,490,000 | $62,622 |
| Event 53: Zodiac Classic – Single Re-Entry – Sponsored by Natural8 – Final Day – KRW 200,000,000 GTD | Daiki Shingae | Japan | ₩46,826,000 | $35,548 |
| Event 54: Rivers (Individual River Card Face Down) – Hyper Turbo | Sparrow Cheung | Hong Kong | ₩3,784,100 | $2,873 |
| Event 55: Midnight Tick Tock (Levels decrease every hour 20/15/10/5) | Yen Fu Pan | Taiwan | ₩6,726,200 | $5,106 |
| Event 56: PL Omaha 5 Card – Hi-Lo (Big O) | Kaoru Kishimoto | Japan | ₩5,270,500 | $4,001 |
| Event 57: Single Day High Roller – 8 Max | Chi-Jen Chu | Taiwan | ₩98,420,000 | $74,715 |
| Event 58: Double Stack – Final Day – KRW 150,000,000 GTD | Riku Mieda | Japan | ₩45,604,000 | $34,620 |
| Event 59: NL Single Draw Mix (A-5, 2-7) – Turbo | Milos Skrbic | Serbia | ₩4,196,900 | $3,186 |
| Event 60: Turbo | Marie Kabaki | Japan | ₩9,716,500 | $7,376 |
| Event 62: Midnight Tick Tock (Levels decrease every hour 20/15/10/5) | Maromu Awaya | Japan | ₩4,773,000 | $3,623 |
| Event 63: Mini Main Event – KRW 200,000,000 GTD – Final Day | Craig Anthony Cooper | United Kingdom | ₩44,784,700 | $33,998 |
| Event 64: APT High Roller – 8 Max – KRW 350,000,000 GTD – Final Day | Thanisorn Saelor | Thailand | ₩171,939,500 | $130,528 |
| Event 65: NL Hold'em – Freezeout | Teng-Kuei Hsu | Taiwan | ₩26,940,000 | $20,451 |
| Event 66: Crazy Pineapple (Get 3, discard 1 post flop) – Hyper Turbo | Shinya Maeda | Japan | ₩5,209,200 | $3,955 |
| Event 67: Midnight Tick Tock (Levels decrease every hour 20/15/10/5) | Ka Chun Tsu | China | ₩6,232,900 | $4,732 |
| Event 68: Limit Omaha Hi-Lo | Shion Ogawa | Japan | ₩1,974,200 | $1,499 |
| Event 69: Last Chance High Roller | Yu Chung Chang | Taiwan | ₩61,934,000 | $47,017 |
| Event 70: Micro Main Event | XiaoHui Wang | China | ₩15,182,500 | $11,526 |
| Event 71: Hyper Turbo | Kannapong Thanarattrakul | Thailand | ₩12,456,000 | $9,456 |
| Event 72: Short Deck – Hyper Turbo | Daisuke Yamada | Japan | ₩5,001,500 | $3,797 |
| Event 73: Tick Tock BOOM! (Levels decrease every hour 15/10/5/2) | Fang Puyen | Taiwan | ₩4,287,800 | $3,255 |

#Asian #Poker #Tours #6.4m #APT #Incheon #Series #Breaks #Multiple #Records