Uncategorized
Qualify for the PokerStars Summer Series on PokerStars PA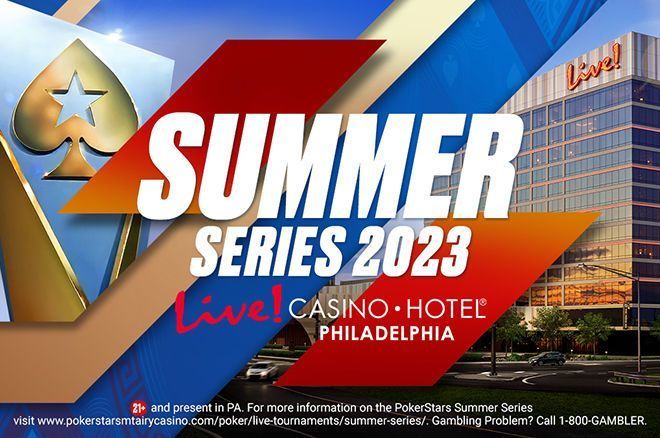 If you're looking to play a big live tournament in Pennsylvania without putting up the four-figure buy-in, there are plenty of opportunities to qualify into tournaments on PokerStars Pennsylvania. PokerStars PA is currently running Summer Series Qualfiers and awarding seats to the first-ever PokerStars Summer Series at Live! Philadelphia later this month.
The PokerStars Summer Series features $1 million in guarantees and will take place Aug. 24-Sept. 10. In the final week of August, there will be plenty of opportunities for players to satellite into the $300,000 guaranteed $1,100 NLH event and the $500,000 guaranteed $2,200 NLH event.
Read More About the PokerStars Summer Series!
Win A Seat to Live! Philadelphia
The PokerStars Summer Series satellites on PokerStars PA kicked off on Aug. 18 with Summer Series High Roller $2 All-In Shootout, a $2 event that guaranteed five seats into a $20 Step Turbo tournament. The winner of those five seats were "jchambs26", "jessewilll", "NAMUHMIL", "xwOBA" and "thingamabob69".
Next up on the satellite schedule is Summer Series $550 at Live! Philadelphia Turbo Sat: $50 NLHE, which guarantees two seats into the $550 buy-in live event.
There will be other $2 Shootout and $20 Step Turbo satellites running throughout the end of August, giving players plenty of opportunities to get into high buy-in live events for cheap. Additionally, there will be $200 buy-in satellites guaranteeing two seats into the $2,200 buy-in live event.
In total, there are nearly two dozen satellites running on PokerStars PA between Aug. 18-Aug. 27.
The schedule for the Summer Series Qualifiers on PokerStars PA is available in the table below.
PokerStars PA Summer Series Qualifiers Schedule
|   | DATE | EVENT | GUARANTEE | BUY-IN (IN USD) |
| --- | --- | --- | --- | --- |
|   | Aug. 18 | Summer Series $550 at Live! Philadelphia Turbo Sat: $50 NLHE, 2 Seats Gtd | 2 Seats | $50 |
|   | Aug. 19 | Summer Series High Roller $2 All-In Shootout | 5 Seats | $2 |
|   | Aug. 19 | Summer Series $20 Step Turbo Sat: $20 NLHE, 3 Seats Gtd | 3 Seats | $20 |
|   | Aug. 19 | Summer Series High Roller $2 All-In Shootout | 5 Seats | $2 |
|   | Aug. 19 | Summer Series $20 Step Turbo Sat: $20 NLHE, 3 Seats Gtd | 3 Seats | $20 |
|   | Aug. 20 | Summer Series High Roller $2 All-In Shootout | 5 Seats | $2 |
|   | Aug. 20 | Summer Series $20 Step Turbo Sat: $20 NLHE, 3 Seats Gtd | 3 Seats | $20 |
|   | Aug. 20 | Summer Series $2,200 at Live! Philadelphia Mega Sat: $200 NLHE | 2 Seats | $200 |
|   | Aug. 25 | Summer Series High Roller $2 All-In Shootout | 5 Seats | $2 |
|   | Aug. 25 | Summer Series $20 Step Turbo Sat: $20 NLHE, 3 Seats Gtd | 3 Seats | $20 |
|   | Aug. 26 | Summer Series High Roller $2 All-In Shootout | 5 Seats | $2 |
|   | Aug. 26 | Summer Series $20 Step Turbo Sat: $20 NLHE, 3 Seats Gtd | 3 Seats | $20 |
|   | Aug. 26 | Summer Series High Roller $2 All-In Shootout | 5 Seats | $2 |
|   | Aug. 26 | Summer Series $20 Step Turbo Sat: $20 NLHE, 3 Seats Gtd | 3 Seats | $20 |
|   | Aug. 27 | Summer Series High Roller $2 All-In Shootout | 5 Seats | $2 |
|   | Aug. 27 | Summer Series $20 Step Turbo Sat: $20 NLHE, 3 Seats Gtd | 3 Seats | $20 |
|   | Aug. 27 | Summer Series $2,200 at Live! Philadelphia Mega Sat: $200 NLHE | 2 Seats | $200 |
Recommended for you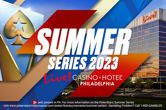 PokerStars Shares Schedule for Summer Series at Live! Casino & Hotel Philadelphia

#Qualify #PokerStars #Summer #Series #PokerStars