Uncategorized
"Why4bet" Walks Away With 888poker Mystery Bounty Main Event Title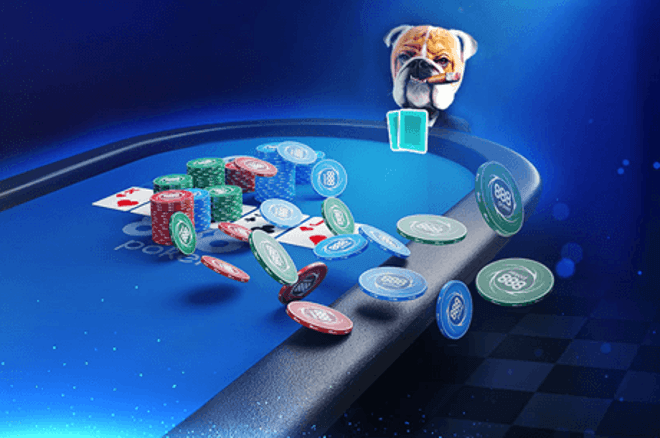 "Why4bet" put on a dominant display at the final table of the 888poker $100,000 Mystery Bounty Main Event before emerging as a worthy champion. The freshly minted champ saw their $109 investment swell into $8,224 with bounties included.
The biggest winner from the tournament did not manage to reach the money place, in fact, they popped the money bubble by falling in 181st place! Chile's "Billy_Slater" busted an opponent when the mystery bounties came into play, and the golden envelope they pulled out contained a whopping $10,000! You may recall that "Billy_Slater" took down this event in May for more than $9,000.
Ninety-seventh place finisher "Sorin9Serban" helped themselves to $3,000 worth of mystery bounties, while "Tttrrx" banked $3,282 from the mystery bounty prize pool before busting in 19th place.
Once the United Kingdom's "xxkim62" bowed out, the nine-handed final table was set, and the race to become the $100,000 Mystery Bounty Main Event champion was well and truly on.
"WalnutPix" was the first of the finalists to crash out. They open-shoved for 10.5 big blinds with king-nine of diamonds, and "dali24" called with ace-jack in the big blind. A jack on the turn proved more than enough to remove "WalnutPix" from the tournament. They were the only player in the top 22 who did not win a mystery bounty before busting.
Brazil's "tutuia20" came unstuck in eighth place, a finish good for $2,402 in total. They committed their final eight big blinds with ace-six suited and lost to the pocket tens in the hand of "Why4bet."
The final table became shorter-handed when "Smile60" of Canada ran out of luck and steam. "Why4bet" min-raised from under the gun with pocket sevens before calling the 13 big blind three-bet shove from "Smile60," a move made with ace-jack. The Canadian picked up open-ended straight draw outs on the turn in addition to their overcards, but the river bricked, and "Smile60" had the smile wiped from their face.
"Why4bet" sent another player to the rail when they swatted "bzzbzzbee." From the button, "bzzbzzbee" open-jammed for nine big blinds with ace-deuce, and found themselves in a world of pain against the dominating ace-king of their opponent. A king on the flop left "bzzbzzbee" drawing thin; they were drawing dead by the turn.
Brazilian "s.totuli" became the fifth-place finisher after a clash with "Why4bet" did not go to plan. The Brazilian got the last of their chips in good, with their ace-jack dominating the ace-deuce of "Why4bet," but a deuce on the flop held to send "s.totuli" to the rail.
The $100,000 Mystery Bounty Main Event became an all-British affair after Ukraine's "YAMAHA1311" stalled in fourth. "YAMAHA1311" moved all-in for 14 big blinds on the button with ace-king, and must have thought all their Christmases had come at once when "Swann97" called with the inferior ace-queen in the small blind. However, any elation soon turned to despair when a ten on the river completed an unlikely queen-high straight, reducing the field to three hopefuls, each hailing from the UK.
Get Ready for the Omaha Ultimate Cashback Promotion on 888poker
Heads-up was set when "dali24" committed their last 3.3 big blind with king-ten of diamonds, and both of their opponents called: "Why4bet" with eight-seven, and "Swann97" with jack-seven. Both active players had two pair by the turn, and "Swann97" took down the pot.
"Why4bet" held a 56.3 to 47.3 big blind lead over "Swann97" going into the one-on-one battle, and it was a battle that took more than 20 minutes to conclude. Initially, neither player managed to pull away from the other. "Swann97" claimed the lead at one stage, but a cooler hand where "Why4bet" made a full house sixes full of threes when "Swann97" had threes full of sixes, swung the match back in favor of "Why4bet."
The final hand both players go to a six-trey-deuce flop with two hearts in a raise pot, with "Swann97" holding seven-five of hearts and "Why4bet" with pocket threes. "Swann97" check-raised a 2.6 big blind continuation bet to 7.9 big blinds, and was called. An offsuit king on the turn saw "Swann97" lead for 12/4 big blinds, "Why4bet" jammed, and "Swann97" called off the 18 big blinds they had behind. The river bricked, "Swann97" busted, and "Why4bet" became the latest 888poker player to win this prestigious tournament.
$100,000 Mystery Bounty Main Event Final Table Results
| Rank | Player | Country | Bounties | Prize | Total Prize |
| --- | --- | --- | --- | --- | --- |
| 1 | Why4bet | United Kingdom | $919 | $7,305 | $8,224 |
| 2 | Swann97 | United Kingdom | $282 | $5,340 | $5,622 |
| 3 | dali24 | United Kingdom | $529 | $3,925 | $4,454 |
| 4 | YAMAHA1311 | Ukraine | $1,529 | $2,885 | $4,414 |
| 5 | s.totuli | Brazil | $714 | 2,135 | $2,849 |
| 6 | bzzbzzbee | Sweden | $869 | $1,590 | $2,459 |
| 7 | Smile60 | Canada | $1,477 | $1,195 | $2,672 |
| 8 | tutuia20 | Brazil | $1,497 | $905 | $2,402 |
| 9 | WalnutPix | United Kingdom |   | $690 | $690 |
Keep Track Of All The Action With The PokerNews Online Tournament Calendar
If you want to make sure you never miss an 888poker tournament again, you should give the PokerNews Online Tournament Calendar a try. This free-to-use tool keeps track of the poker tournaments on major online poker sites like 888poker.
You can filter and search the tournaments to find what you're looking for quickly and easily, including the PokerNews exclusive freerolls held on 888poker.
Sign up for 888poker today and you can register for poker tournaments without ever leaving the calendar!

#Why4bet #Walks #888poker #Mystery #Bounty #Main #Event #Title